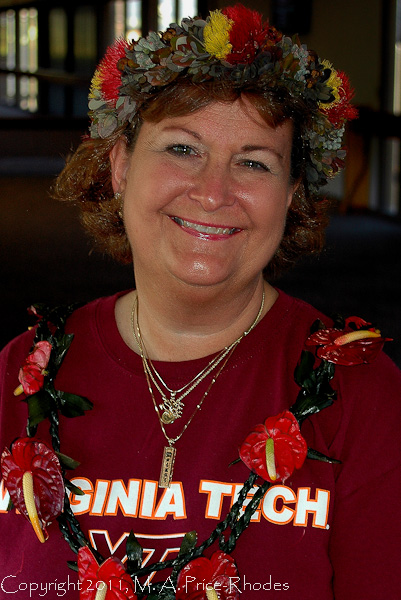 Aloha! E Komo Mai!
Dr. Price-Rhodes cannot remember a time that she has not had an interest in photography. As a young girl she was mesmerized with the photos her parents took when they lived in Germany. Their photos from many European countries were captivating & left an indelible impression to this day. She received her first camera in elementary school and it ignited a life-long passion.
Dr. Price-Rhodes was self-taught until high school and college courses brought formal instruction in photography. True love came from not only taking the photographs- even with a home-made pin hole camera made from a tea bag container- but in the love of darkroom work that ensued. She could literally spend hours in the darkroom and it feel as if mere minutes had slipped away.
As a teen, the best times were shooting old barns, fences, and the country side after school with her childhood buddy, Charles. Fast forward 30+ years, and the two of them are shooting his kids at soccer & Baseball practice and the crazy things kids do. They ride the high seas with their spouses, Doug and Kathy on the Navy's finest aircraft carriers shooting their favorite jets, the F/A-18 Super Hornets and the now retired F-14s as they break the sound barrier & trap on the flight deck mere yards away! There's nothing in this world like jet noise and those aircraft!
Technology has greatly advanced over the years & Melony cannot remember a time of such rapid change! What a great time to be a photographer!
One of her favorite places to travel is Hawai'i where she has had a life long passion along and any place with a warm and tropical climate near water and boats. Africa is also a favorite. A first visit to the Colorado Rockies a few years ago was very inspiring. No matter where she travels there are always many photographs just waiting to be taken.
Over the years, thousands of photos have been taken, and so very many memories captured. Trips to foreign lands, nieces, nephews, and god-daughters, having the chance to shoot what very few have the opportunity see much less shoot, yet still finding wonder literally in her backyard with her canine daughter Sunshine and her tropical flowers, the birds of paradise, anthuriums, hibiscus and often a pineapple or two.
On Melony's business cards is a quote by her favorite photographer, Ansel Adams, "Sometimes I do get to places just when God's ready to have somebody click the shutter." Melony truly believes this and is grateful for the talent that God has given her.
Many of us will remember the Sally, Dick, and Jane book series as we learned to read. The work "look", repeated over and over, is the mantra of serious photographers. Photos are everywhere, most just do not see the shot. The ability to see what most do not separate the serious photographer from the rest.
Mahalo nui loa (Hawaiian for thank you very much) for visiting the site and visit often as new images are always being added.
M-